Today we scoured the internet for the best bleach cosplay collection of as many of the most popular characters that we can find. I went a bit biased and grabbed a few extra Nelliel Tu Odelschwanck Cosplays because she is the most popular character that that people Cosplay.
Ichigo Kurosaki (黒崎 一護, Kurosaki Ichigo) is a Human who has Shinigami powers and is a Substitute Shinigami. Ichigo is the son of Isshin and Masaki Kurosaki, and older brother of Karin and Yuzu. He is also married to Orihime Inoue and has a son named Kazui Kurosaki.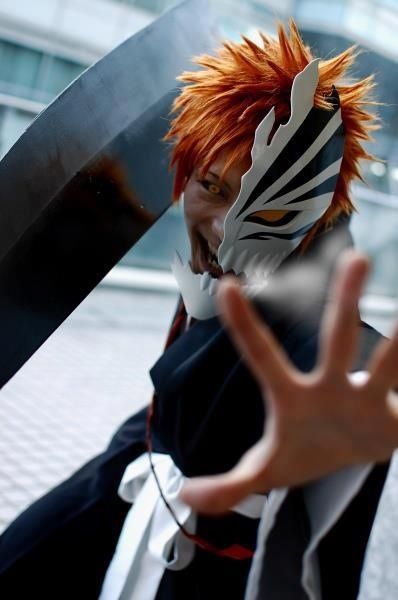 Ichigo's most distinguishing feature is his spiky orange hair, a trait he has been ridiculed about for years on end. He is a fairly tall, lean-built young man with peach skin and brown eyes. He likes to wear slim fitting clothes. He has a tendency to wear shirts patterned with the number 15 because his name is a homonym for the number. Since becoming a Shinigami, he has become noticeably more muscular, as noted by his sister Karin.
Rukia Kuchiki (朽木 ルキア, Kuchiki Rukia) is the current Captain of the 13th Division. She formerly served as lieutenant of the 13th Division under Captain Jūshirō Ukitake. Rukia is the adoptive sister of Byakuya Kuchiki and a friend of Ichigo Kurosaki. Short and petite, Rukia has light skin and purple eyes. Her hair is black, with several strands of hair always hanging between her eyes. Byakuya has stated she strongly resembles her sister, Hisana Kuchiki. As a Shinigami of the Gotei 13, Rukia wears a standard shihakushō. 17 months after Aizen's defeat, Rukia wears her hair cropped into a bob which hangs about her face. She wears a fingerless white tekkō, similar to Byakuya's, which extend above her elbows. As a lieutenant, she wears her Division Badge around her uniform's left sleeve, which has been shortened to just reach her upper arm.
Yasutora Sado (茶渡 泰虎, Sado Yasutora), also known as Chad (チャド, Chado), is a Human teenager who lives in Karakura Town. He is a student at Karakura High School, where he is in the same class as Ichigo Kurosaki.
Kisuke Urahara (浦原 喜助, Urahara Kisuke) is the former captain of the 12th Division, as well as the founder and 1st President of the S.R.D.I.. His lieutenant was Hiyori Sarugaki. He lives in the Human World where he owns a small convenience store which sells Shinigamiitems. He is assisted by his employees Tessai Tsukabishi, Jinta Hanakari, and Ururu Tsumugiya.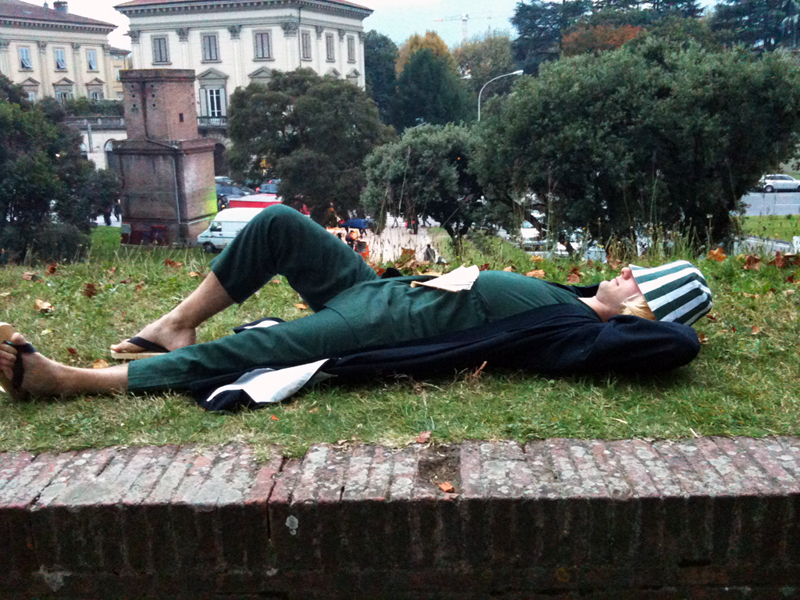 Yoruichi Shihōin (四楓院 夜一, Shihōin Yoruichi) is the former captain of the 2nd Division of the Gotei 13, as well as the former commander of the Onmitsukidō. Her Lieutenant was Marenoshin Ōmaeda. Having abandoned her command of both positions, she works with Kisuke Urahara and Tessai Tsukabishi, based in the Urahara Shop out in the Human World.
Ulquiorra Cifer (ウルキオラ・シファー, Urukiora Shifā) is the Cuatro (4th) Espada in Aizen's army of Arrancar. Ulquiorra is a slender, yet fairly muscular, male Arrancar of average height with a melancholic appearance. He has fairly short, messy black hair, pale white skin, a black upper lip, and green eyes with small slit-shaped pupils, similar to a cat's. Part of his bangs fall between his eyes, and he has distinctively thick eyebrows. He has teal lines which descend from the lower part of his eyes. His facial expression rarely changes, though he is almost always frowning. He wears typical Arrancar clothes: a white jacket, black sash, and a white hakama. However, his jacket has longer coattails than others, and the collar is higher.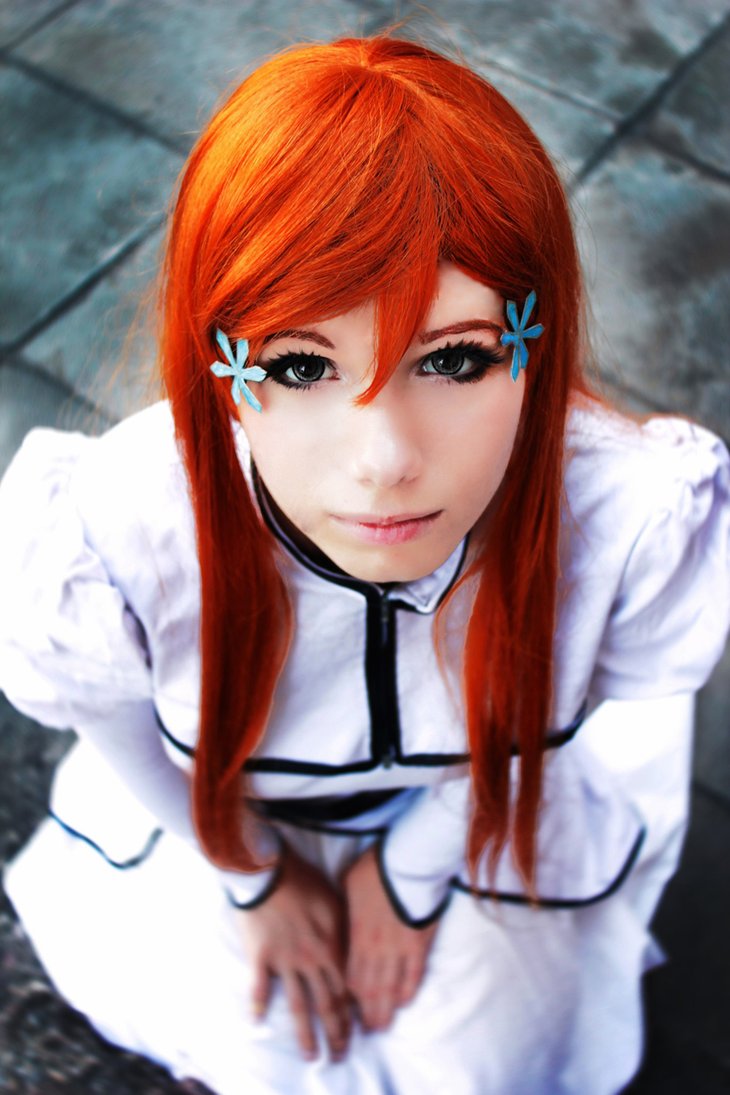 Orihime Inoue (井上 織姫, Inoue Orihime) is a Human living in Karakura Town. She is a student at Karakura High School, where she is in the same class as Ichigo Kurosaki and her best friend, Tatsuki Arisawa. Orihime is a teenager of average height. She has brown eyes and long, waist-length, burnt orange hair. Her most noticeable physical trait is her slender yet curvaceous figure for a teenager, especially in terms of her large breasts. She wears her hair in bangs tucked behind her ears with hairpins, which she only removes to sleep, as they are worn in the memory of her brother.
Renji Abarai (阿散井 恋次, Abarai Renji) is the lieutenant of the 6th Division under Captain Byakuya Kuchiki. He formerly served as the 6th Seat of the 11th Division under Kenpachi Zaraki. Renji has brown eyes and long crimson hair, which is usually kept in a high ponytail. As a child, Renji's hairline was leveled. Later, he styled it in a large widow's-peak. His upper body is covered in tribal tattoos, which have increased over time, starting from his early days as an academy student to covering his entire back, much of his chest, his extremities, and even much of his forehead.
Rangiku Matsumoto (松本 乱菊, Matsumoto Rangiku) is the lieutenant of the 10th Division of the Gotei 13, serving under Captain Tōshirō Hitsugaya.
While she was lieutenant under Isshin Kurosaki, her hair was shoulder length, and she wore a scarf, tied into a knot on her left shoulder.
Rangiku has long and wavy blond hair, blue eyes, full lips, and a beauty mark located under the right side of her mouth. She is well known for her curvaceous figure; her most distinctive feature of it is her very large breasts. She dresses in the garb typical of Shinigami, though she lets her robes hang loose for her ample bosom to be revealed. She wears a thin golden necklace tucked between her cleavage and a long pink scarf over her shoulders.
Gin Ichimaru (市丸 ギン, Ichimaru Gin) was the captain of the 3rd Division of the Gotei 13 until he betrayed Soul Society, alongside Sōsuke Aizen and Kaname Tōsen. His lieutenant was Izuru Kira. He formerly served as the lieutenant of the 5th Division under Sōsuke Aizen and the 3rd Seat of the 5th Division under Shinji Hirako.
Suì-Fēng (砕蜂 (ソイフォン), Soifon) is the commander-in-chief of the Onmitsukidō and the captain of the 2nd Division in the Gotei 13. Her lieutenant is Marechiyo Ōmaeda. Suì-Fēng is a relatively petite woman with gray eyes and black hair. Her hair is worn short with two long braids bound in white cloth, each ending in a large golden ring.
Sōsuke Aizen (藍染 惣右介, Aizen Sōsuke) is the former captain of the 5th Division in the Gotei 13. He later leaves Soul Society with his followers, Gin Ichimaru and Kaname Tōsen. His lieutenant was Momo Hinamori. He formerly served as the lieutenant of the 5th Division under Shinji Hirako. After waging war against Soul Society with an army of Arrancar, Aizen was defeated by Ichigo Kurosaki and sealed away by Kisuke Urahara, and then imprisoned for his crimes.
Tier Harribel (ティア・ハリベル, Tia Hariberu; Viz: Tier Halibel) is an Arrancar and the former Tres (3rd) Espada in Sōsuke Aizen's army until the latter's defeat. Sometime after Aizen's defeat, she becomes the de facto ruler of Hueco Mundo. Harribel has olive skin, aqua eyes, thick eyelashes, and short golden blonde hair; which she usually keeps messy with three braided locks. She wears a variation of the Arrancar jacket with a high collar, which covers the lower part of her face downward, while baring a good portion of the lower half of her large breasts. The jacket has a zipper running along its entire length, which is opened from the bottom upwards. It has a beige air filter on either side just below the trim. The jacket's sleeves completely envelop her arms, terminating in black glove-like extensions at her extremities, resembling the appearance of a cat's paw.
Nelliel Tu Odelschwanck (ネリエル・トゥ・オーデルシュヴァンク, Nerieru Tu Ōderushuvanku) is the former Tres (three) Espada. She is also known as Nel Tu (ネル・トゥ, Neru Tu), and she is a small, good-natured, childlike Arrancar. She lives in the desert of Hueco Mundowith her adoptive brothers and former Fracción, Dondochakka Birstanne and Pesche Guatiche, and their pet, Bawabawa.
Nelliel is a female Arrancar that has hazel eyes and short green hair. In her child form, her eyes are incredibly wide, the canines on her lower jaw are larger than usual, and the remains of her Hollow mask make up a cartoon-like skull which sits on the top of her head. A crack runs along the left side of the mask and four teeth on the left side of the skull are broken off. She has a large scar coming down from her forehead to her nose and a crimson line that stretches horizontally across her face below her eyes. Her clothing consists of a simple green gown with a hood which covers her entire body.
Her true form is that of a fully-grown curvaceous and well-endowed adult with long waving greenish-blue hair, retaining similar features to her child form, including the scar and the crimson line that runs across her face, but her bottom canines aren't quite as pronounced. Her gown is now torn into a skirt and a top, connected with a single strip across her abdomen.
Bleach (Japanese: ブリーチ Hepburn: Burīchi) is a Japanese anime television series based on Tite Kubo's mangaof the same name. The series ran for a total of 366 episodes. Bleach was produced by Studio Pierrot and directed by Noriyuki Abe. Bleach's Japanese and English voice actors include some of the most credited and well known voice actors, including Masakazu Morita and Johnny Yong Bosch. The music was composed by Shirō Sagisu, who also composed the music for Neon Genesis Evangelion. A total of fifteen opening themes and thirty ending themes were used throughout the series, featuring a diverse group of Japanese artists.